Aeta album released "Ai"
The singer Aeta, known to the public as a participant in the projects Voice and Winner on Channel One, as well as the finalist of the second season of the contest New Star, will present her first album, Ai.
Listen and download album Aeta album "Ai"
The track list includes seven songs recorded over the past six months. The album got its name from the track "Ai", which the singer considers to be the most significant emotionally.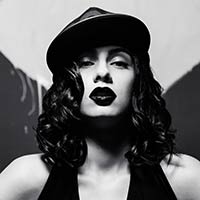 Aeta: "Each of these songs was written at some specific period in my life, so they all carry something meaningful to me. Just everything is created from music that I liked and the state that was at that time. Honesty, sincerity and loyalty - this is what unites these tracks - everything was taken from real life bit by bit and written from the heart. "
Listening to the album of the singer, in which her revelations are collected, is a great opportunity to get to know the artist better, because she herself tells almost nothing about herself. But he communicates with the public through his songs, and he describes himself as "goal-oriented workaholic". Confirmation of this - the constant work on themselves and their work and, of course, - the conquest of new musical peaks. The release of the first album is another victory that Aeta would like to share with its listeners. So look for "Ai" in the windows of all digital stores!