Ensemble "BZABZA" released today an album of folk music in modern processing - "Qafahar".
The album included 8 of beautiful old compositions, processing of which was made by the artistic director of the ensemble, folklorist - Zuber Euaz.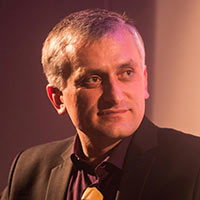 "This is a folklore material. Dance music in Kabardino-Balkaria, Karachay-Cherkessia, Turkey and Jordan. In the work on the tracks, musical instruments, besides harmonics, I made specifically for this project. Additionally, modern sounds were also used.
The album is filled with the music of the native land, and hence its spirit, beauty. It was the melodies born in the mountains that inspired me to give the old compositions a new life, "says Zuber.
Listen and download the album "Qafeher" by the group "BZABZA"