"Gamarjoba genatsvale" - the so-called cultural and creative movement, in which the popular author and performer David Divad holds musical evenings in Moscow where fans of good music gather.
Events are held in the restaurant "Khinkalnaya on Suschevka." Russian pop stars often perform here, and more recently the holding of thematic events, the idea and organization of which belongs to David, has become a good tradition.
"I moved to Moscow 9 months ago. I have already looked at everything and researched, talked with people who are well-versed in various fields and concluded for myself that the best thing I can do here is to promote artists, both popular in different regions of the Caucasus, and beginners. I was already doing something similar in Rostov, where I lived with my family, and therefore my previous connections and experiences helped me a lot, "says the artist.
In the previously mentioned restaurant, "Tbilisi evenings" are being held with success now, where artists and spectators of different nationalities gather to have fun in a pleasant atmosphere, to remember everyone's favorite songs, and also to listen to new ones. David gave an opportunity to novice singers to perform on the same stage with eminent artists, and the audience - to get acquainted with the diversity of cultures of the Caucasian nationalities.
"I want beginners, talented, promising performers to have the opportunity to show themselves. Speak to the public, declare yourself. The path to success is very difficult and easier for them to help - one of the key tasks.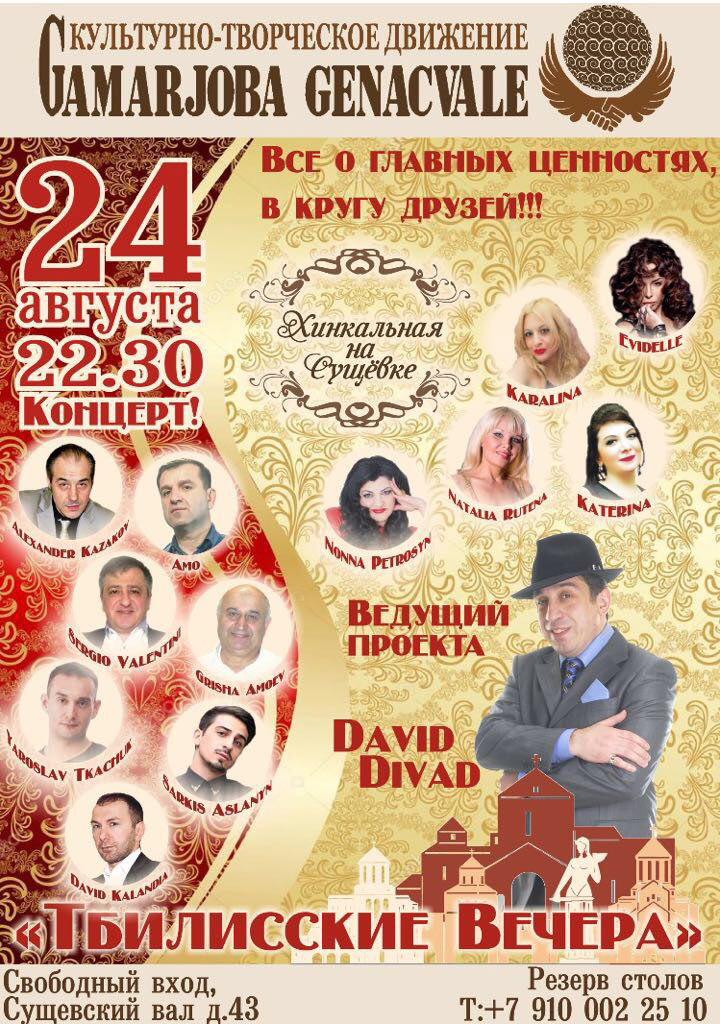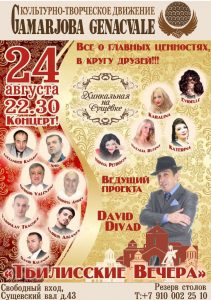 Мы уже провели 4 таких вечера. Начинать было тяжело, потому что я на своих сольных концертах так не переживаю, как по всем этим организационным моментам. Но все прошло хорошо и с каждым разом все веселее, все мощнее, новые люди, новые звезды. Несмотря на то, что сейчас даже не сезон, все проходит очень хорошо. Две последние вечеринки были вообще на ура — мы разошлись только в 4-5 часов утра! Все довольны, а значит, главная цель достигнута. Люди приходят с удовольствием, потому что знают, что здесь веселье, здесь говорят о главном, здесь поются песни абсолютно разных национальностей и различного эмоционального диапазона. Мы создаем атмосферу именно тбилисских вечеров. Что значит «Тбилисские вечера»? Почему не «Грузинские вечера»? В Тбилиси жило 180 национальностей, не считая народностей. Я могу сказать, что многие люди, приезжая в Тбилиси, оставались там жить. Были дома, в которых в одном подъезде проживали представители множества различных народностей. И самое кайфовое было то, что когда наступал какой-нибудь праздник, соседи собирались вместе и совершалось настоящее волшебство! Кухня, представленная изобилием еды разных народов, музыка и танцы различных культур. И сейчас именно эту атмосферу мы и возрождаем», — говорит Давид.
Помимо таких встреч, артист планирует и вечера других форматов. Так, начиная с сентября, каждую среду будут проводиться Вечера авторской музыки, по воскресеньям – еврейской, а раз в месяц – Езидские вечера. Это прекрасная возможность для начинающих артистов показать себя.
Contact the performances for the next party, please call: 8 (916) 838 7484, book tables: 8 (910) 002 2510.