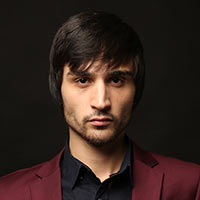 Name: Alan Rashidov
Date of Birth: 27 April 1991 city
Place of Birth: Kaspiysk
Education: higher education
Musical education: He graduated from music school in Moscow (specialty "Accordionist").
A graduate of the Dagestan State Pedagogical University, majoring in Piano and Academic Vocals; A graduate of the Moscow State University of Culture and Arts, with a degree in pop and jazz singing (qualification - artist, teacher, actor).
Start a music career: from 2009
Albums and singles: "I can not live without you" (single)
Life motto: "Lord, it is banal!"
Elan: "Music for me is what I live, I cannot live without it!"
"For you, I open my heart, for you I open my wings!" A powerful video clip of Arthur Khalatov for the song "For You" has been released. Everything is modern in the novelty: youth style of performance, energetic recitative and impeccable video sequence from Arthur Khasanov. Music by Arthur Bessaev, lyrics by Inna Babaeva.