Elena Tsaritsa presented a new song - "Make a Wish"
For the singer, the new track has become a kindly musical message to the beloved listener for the fulfillment of the most cherished desires!
Listen and download the song "Make a Wish" by Elena Tsaritsa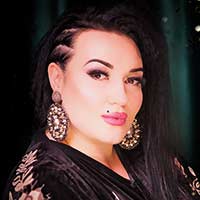 "One evening the author Maxim Temirsultanov sent a demo version - the primary version of the song, which I immediately liked. Having a little finished the motive, the track was passed on to the talented arranger Vitaly Romanov, who brought the composition to life!
It is noteworthy that the song was supposed to be released on the eve of the upcoming 2019 year, but for some reason the stars so coincided that the track is published today - during Lent. I think it is no coincidence. After all, we all make wishes, and not only on New Year's Eve, but more often - in our thoughts and prayers, in appeals to God. And, as life proves, not all of these desires are connected with material possibilities. For the one who is ill - dreams to be healed, who does not have children - begs for the child from the Lord God, and the one who does not have the second half - dreams to find his true happiness. With this song I want to wish everyone fulfillment of those desires that cannot be bought for any money!
I want this song to be a good message to everyone, with God's help, to find what they quietly dream of. May our elders and children be healthy, lovers happy, lonely find their love, and people all over the world be friendly and simple! "Says Elena.
The new track of the artist, filled with kindness and charged for the performance of all the most cherished, is already available for listening and downloading in all digital storefronts.