Nasheed artist Isa Esambaev is preparing to release a new composition to the words of Malik Daabul - "Tariqu al-'ilmi". Recently, the artist presented a video on this Nasheed, which was filmed in Moscow.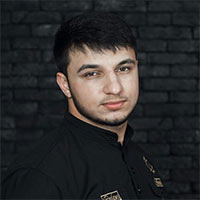 "My recent trip to the capital turned out to be a favorable outcome - we managed to shoot a video, which, thanks to the professional work of the whole team, I can already show to my listeners. Nashid himself has not yet come out, but you can listen to him in this clip. I want to thank the film crew that did an excellent job in such a short time: video production "One More Take", director of photography Shamil Israilov, producer Arbi Tovdarkhanov, editor Anna Ilin, author of words Malik Daabul, studio GRUSHAMUSIC and company Muzaev!
We suggest you to watch a new video of Isa Esambaev "Tariqu al-'ilmi" right now, and also remind you that all our artists of the artist are available for listening and downloading in digital show-windows.