Georgian singer Jano today presents his first song "We are dancing shalakho"
The artist dedicated a burning composition called "We dance the shalakho" to all the peoples of the Caucasus, in whose souls there is a fire, and in the heart there is fun!
Listen and download the Jano song "We dance shalakho"
Jano - the author and performer, he wrote a lot of songs, but working on his debut track, he set himself the goal of giving the audience a composition that will light and delight: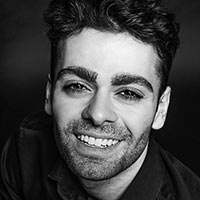 "I wanted people to dance to this song, have a good time, enjoy music and life. Therefore, by its nature and its popularity among the people, the dance of the shalako fit perfectly! Anyone who is familiar with him, and in the Caucasus there are many, will dance, sing along with me, have fun and have fun. And those who are not familiar, just meet! Dancing and fun - this is what always brings together.
Shalakho has an interesting story - if we talk about Tbilisi, then at one time various masters and apprentices had such a tradition - after working day to gather and dance. The same dance was popular at every celebration. He is a symbol of fun and celebration. Therefore, I am very glad that my first song, as a tribute to one of the traditions of the Georgian people, is dedicated to shalakho! It was written from the heart, everything is collected here: both wine, girls and dancing are what a real man needs to be happy! ", Comments Jano.
The desire to start a crowd at the artist appeared not by chance. He is an excellent dancer and, as is recognized, cannot sit still when the music is playing nearby:
"I'm in love with dancing! This is my passion ... If I did not sing, I would be a dancer. Because I feel music very much. And when I hear her, especially Georgian, I just jump up and run to dance! If a person is happy, his soul soars in the dance, he is inspired. A lot of things inspire me to create compositions: work with my brother, life observations, films, books, the meaning that is in them! Holidays, fun, parties, which often occur in my life! And, of course, women ... Women are the most powerful inspiration that a man can have. When I see a beautiful girl, everything immediately comes to life in me, and I start writing songs. "
Jano: "On the day of the premiere, I want to wish everyone the best. Let your life be like a holiday where fun and joy reign. And with this song, with dancing we will shake and shake the whole world! We will share this with our close relatives and dance the shalakho! I love you all very much! "