The premiere of the new track by popular artist Betala Ivanova @betal_ivanov - "Si Ade." The name of the song from the Kabardian language is translated as "My father." This is an author's composition, which the artist wrote to honor the memory of his father Vladimir Iwan, who in many respects is an example for him, both in his personal life and in his creative work.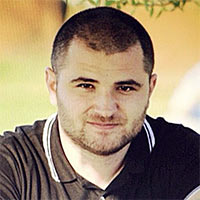 "My father worked in the theater, wrote poems and various plays. Most of his works are devoted to his people and love topics. Perhaps it was love and patriotism that inspired him to work.
Now I clearly understand that if it were not for the father, then I would hardly have once picked up the harmonica. At the age of three years, I went to the piano and played one of my father's songs with one finger - "F1ylagunygye". Hearing this, he took me to my first teacher. This started my love for musical instruments. Every day my father forced me to study for several hours. I can say with confidence that if it were not for him, then I would not have become who I am now. "
But his father instilled in Betal Ivanov, not only the love of music. According to the artist, the main thing his father taught him was to appreciate true friendship. All this is reflected in the new composition of the artist, which we invite you to listen and download right now!
The track "Si Ade" is available on our website, as well as on all digital music venues.
Listen and download Betal Ivanov's track "Xi Ade"
We also offer fans of Betal Ivanov to listen to his most popular songs according to the version of the Yandex.Music portal.
Popular songs Betala Ivanova