"Paserey Uj" ("Old Uj") - a new instrumental composition from the ensemble group «BZABZA» @ ensemble.bzabza. Folk music in processing Zuber Euaz tells the story of a mass circular dance Udzh dance performed at a smooth and solemn pace.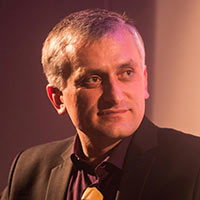 "The movements of this dance are natural and simple in technology, which allows performers to build intricate designs. Choreographic composition abounds with them. The overall ornament of the dance consists of numerous interweaving of straight and diagonal lines, small lace circles and a large circle, various turns, transitions.
With a fairly simple, accessible technology of movement, the compositional theme is more diverse and is leading in the choreographic fabric of the dance. In numerous transitions, turns and intricate rebuilds of the hands of performers in constant motion, they are soft, plastic and expressive. With external severity and smartness of performing manner, the relationship of young people in UJ remains more relaxed. However, the ability to communicate dancers does not violate the ethical norms that have developed among the people, but, on the contrary, emphasizes the respectful attitude of the younger generation towards traditional forms of collective dancing folk art as a means of communication with contemporaries. This is the only dance when a boy and a girl touched each other's hands, could get acquainted and communicate in dance without fear of popular anger.
There are many translations of the names and genres of this dance. Circassians living in Turkey have such a translation "Uj", as from the word "dzhy", which means "to spin". And "ujyn" ("do uj") means "to intertwine". The choreography of all kinds of uj is also intertwined with this translation.
Although the sacral meaning of this dance is lost, it is popular in our time. It is likely that Uj was also a type of collective meditation. With his strict rhythm and chants, he brought the participants of the action into a state of spiritual elevation, "says Zuber Euaz.
The beautiful, melodic composition "Paserey Uj" is already available for listening and downloading both on our website and on all major digital platforms.
Listen and download the song "Paserey Uj"
We also offer fans of creativity "BZABZA" to listen to the most popular songs of the team according to the version of the Yandex.Music portal.