Artist released track titled "Black Sea"
Author and performer Sergey Doroshenko @sergeydoroshenkomusic presented today a new composition. The song called "Black Sea" takes listeners to the warm coast, where trembling feelings are born under the whisper of waves and exciting stories happen ...
Listen and download Sergey Doroshenko's song "Black Sea"
Sergey Doroshenko: "Love and appreciate each other!"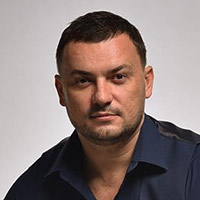 "About a year ago, inspired by pleasant memories, quite suddenly this composition was born in my head and was written in just one night. The Black Sea is the closest to us, with him in my life a lot connected: while I was small, I went there to rest with my parents when I was a student - I worked there with friends, organizing and leading discos. There were a lot of meetings, dating, love. All these stories are forever in my heart, they still warm me and inspire creativity.
I want to share with the listeners a new track and say: love and appreciate each other, cherish the pleasant moments of your life and relax in the resorts of the Krasnodar Territory! ", Says Sergey with a smile.
From now on, the Black Sea song is available for listening and downloading in all digital storefronts.