A new song by Betala Ivanov was released in Kabardian language
Betal Ivanov He presented a new composition in Kabardian language - a touching song filled with tenderness and warmth, in which he sings about his love for his mother - "Xi ane" ("My mom").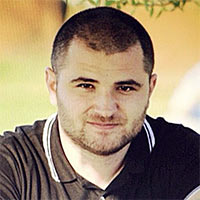 "This is the song of my childhood," the performer says, "my father wrote it in honor of his mother, so I often heard her as a child. This is one of my favorite author's fatherly compositions, so I decided to re-record it in a new way and dedicate it to all mothers, who, despite all the difficulties of life, try to do everything for their children. I want this track to be a reminder that we do not have anyone closer and more expensive than our mothers. "
Starting today, the single "Bet An Ivanov" "Xi ane" is available for listening and downloading in all digital storefronts.
Listen and download Betal Ivanov's song "Xi ane"