Unusual novelty from Gilani Stadnik
Музыкант Gilani Stadnik presented an interesting novelty - his new track "So who can i blame" ("Who I can blame") performed with an unusual timbre, which, according to the composer, is a computer symbiosis of male and female voices ...
You can listen and download the song on all major music services, including: iTunes, Google play, Apple music, Beeline Music, Yandex.Music, as well as in the BOOM application (for users of social networks Vkontakte and Odnoklassniki).
Listen and download the song "So who can i blame"
Gilani Stadnik is currently working on the release of two albums, simultaneously introducing the public singles of them. So, the album under the working title "The Red" will include compositions of an ethnic nature, written mainly in the styles of dark and deep house. Today's novelty is just part of a new project. "So who can i blame" is a melodic, soulful composition, performed with a computer voice, which Gilani specially developed in the studio.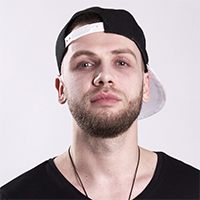 "It was an experiment. We combined a male and female voice, thus forming the ideal option for the sound of the tracks from this album. The name of this character is Abba, in honor of the Babylonian goddess, who patronizes the development of creativity, inventions, innovations and all that. Now we are preparing to shoot a video for this song, where, according to the script, the girl is stealing a picture that was transmitted from generation to generation as "Mona Lisa", "Gilani said.
The cover of the track shows Sarina Turetskaya - producer of such projects as SOPRANO TURKEY и trio "Format".
"I decided to put the figure of Sarina on the cover, so we collaborate on many projects, and I respect her immensely as a producer, professional and person. Despite such a young age, she is competent, educated and, indeed, a master of her craft. Such people inspire, "comments the musician.