Sha Man and Kamik presented the single "Feelings in the trash"
After the release of the first joint track - "Mai Love"hip-hop performers Sha man и kamik we decided to continue to work together, and today a bright novelty appeared on the digital windows - the song "Feelings in the trash"!
Listen and download the song Sha Man and Kamik "Feelings in the trash"
"Drunk" night, dancing, love and an incendiary motif of a heart beating with a strong feeling - a musical cocktail skillfully served by artists, was born spontaneously in Kamika's thoughts: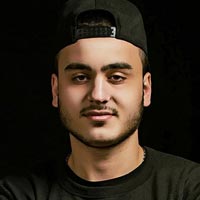 "Sitting at the keys, I sang the chorus that was spinning in my head," the author comments, "I recorded it and shared it with Sha Man. He appreciated, he liked it. Then I immediately put the words into two verses. Catching this rhythm and refining the text was easy, so the creative process did not drag on for a long time. We recorded the song and were very pleased with the result. We are sure that our listeners will surely understand what we wanted to say about love in this composition. You just need to catch the wave and listen with your heart ... ".
According to the performers, if the track becomes popular, they will shoot a video for a new song.