"Only you". New song by Dibira Abaeva released
Dance novelty from a popular artist Dibira Abaeva - the song "Only You" is available from today for listening and downloading in all digital storefronts.
Listen and download Dibira Abaev's song "Only You"
The repertoire of the artist has many beautiful lyric compositions. Deciding to dilute their list with more dynamic tracks, Dibir turned to the composer Mamikon Vardapetyan, who wrote the music for the future song. And the author of the words was Diebir's wife, Patimat Abaeva.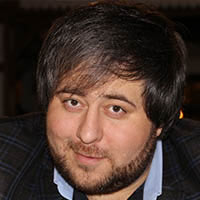 "She writes beautiful lyrics not only for me, but also for other Caucasian artists," the performer says, "so we and my wife" sung "in this regard. Arranged by Armen Avetisyan. The composition turned out fun, groovy, the words to the music went perfectly. It was in this spirit that I wanted to record a track, because I often speak at events, and there it's dance songs that are more popular. I hope "Only you" will appeal to my public. "
Now the artist is preparing another song of the dance plan. According to him, the music is already there, the text is written by Patimat again, and the arrangement is in work. So soon the fans of Dybir Abaev will hear another novelty.