Rustam Nakhushev @ r.nahushev presented his version of the popular folk song in the Caucasus: "The quiet sea makes noise".
The words "Do not run, do not shout, know that the gray-haired Caucasus is looking at us with the heart of the proud peaks ..." - familiar to the mountaineers from childhood - for a long time they sank into the heart and the memory of the performer while he was not an artist.
Song story about the strength and will of the Circassian, his courage and heroism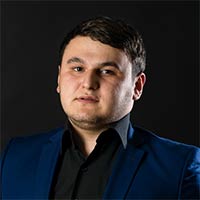 "The composition, in the words of which is a story about the power and will of the Circassian, his courage and heroism, love for his native land, causes patriotic feelings and inspires pride in his people and involvement in its history. Therefore, choosing a new song for my repertoire, I decided to perform the one I love from an early age. I hope my version will appeal to the listeners, "Rustam comments.
You can listen and download the single "Quiet Sea Rumbles" right now on our website!
Listen and download the song "Quiet the sea rustles" by Rustam Nakhushev
We also offer fans of Rustam Nakhushev to listen to his most popular songs according to the version of the Yandex.Music portal.
Popular songs of Rustam Nakhushev