From today on a digital music platform a new song is available for download Rustam Nakhusheva @ rustam.nahushev "On a foreign coast." This is the artist's author's track, the creation of which was inspired by his own experienced emotions.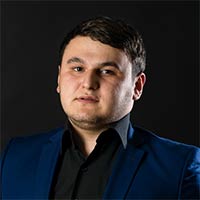 "This is a life song based on personal experience. Perhaps that is why I put so many feelings into her performance. I think many people will learn their story in this composition. And this is valuable, "says the artist.
For the first time, the artist's fans will be able to hear the single "Alien Coast" live at his solo concert, which will be held on October 11 on 2019 in Nalchik, but now you can listen and download the track on our website.
Listen and download the song of Rustam Nakhushev "On the Alien Coast"
Lyrics of Rustam Nakhushev's "Alien Coast"
The lights went out long ago
A candle is still burning in your window
I know from your cheeks
Once again a bitter tear
Going casually hugging
You whisper words to me
I still love you
And I will always wait
You can't find happiness on a foreign shore
You believed in words, it's a pity that it's not mine
It hurts to know honey, but I can't
Your eyes are beautiful, I can't forget
And the night will be dark again
The world will be cold all for you
Want to forget as soon as possible
Like hugging another, but not loving
Your eyes will be sad again
Do you remember again how we loved
And spring will not come anymore
And roses wither paradise gardens
You can't find happiness on a foreign shore
You believed in words, it's a pity that it's not mine
It hurts to know honey, but I can't
Your eyes are beautiful, I can't forget
You can't find happiness on a foreign shore
You believed in words, it's a pity that it's not mine
It hurts to know honey, but I can't
Your eyes are beautiful, I can't forget
You can't find happiness on a foreign shore
You believed in words, it's a pity that it's not mine
It hurts to know honey, but I can't
Your eyes are beautiful, I can't forget