Rasim Ibragimov introduced the song "I want to return"
New in the repertoire of a popular Caucasian artist Rasima Ibragimova! The artist presented today a beautiful lyrical composition called "I want to return."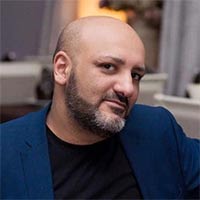 "The story of this song began with the fact that once I heard an Israeli track that touched me deeply, and I wanted to share these emotions with my listeners. I decided to release my version of this single. First I turned to Patimat Abaeva, she wrote the words, then redid the arrangement and it turned out to be an excellent project that the audience really like. "I want to return" is often ordered at weddings and other celebrations, and I'm glad that from today the song is available for download to a wider audience! "- says Rasim Ibragimov @rasim_ibragimov_singer.
Listen and download the song "I want to return" by Rasim Ibragimov
The text of the song Rasim Ibragimov "I want to return"
Stop for a moment
Turn around don't leave
Heart burns in the chest
Mute pain no end
I just believe again and again
To our love
I want to return the warmth of your soul
Wake up with you
In the clouds of fancy soaring
My love my love
I want to return yesterday's spring
To touch the hand
And look into bottomless eyes
My love my love
The sound of your footsteps, funny laughter
And talk until dawn, when they disappeared
No more strength
I'm so cold in the mysterious silence
This night
I want to return the warmth of your soul
Wake up with you
In the clouds of fancy soaring
My love my love
I want to return yesterday's spring
To touch the hand
And look into bottomless eyes
My love my love
I want to return the warmth of your soul
Wake up with you
In the clouds of fancy soaring
My love my love
I want to return yesterday's spring
To touch the hand
And look into bottomless eyes
My love my love