27 апреля 2018 года лейбл Major Tom's представил дебютный альбом британской певицы Энн-Мари (Anne-Marie Rose Nicholson). Выпуск объединил 16 треков, в том числе дуэт с диджеем Маршмелло (Marshmello) под названием «Friends» (клип на эту песню вышел в начале 2018 года — о нём дополнительно в конце статьи), а также композицию «2002», которую написал партнёр Энн-Мари Эд Ширан (Edward Christopher Sheeran).
In general, the album came out fresh and interesting from the point of view of creative decisions and originality. Despite the fact that each track is listened to individually enough, the singer managed to combine them all in the same characteristic style for her. The most powerful impression in the album, in our opinion, is made by the songs "Cry" and "2002", but each of them is worth listening to at least once.
Listen to Anne-Marie's "Speak Your Mind" album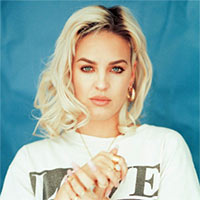 Anne-Marie Rose Nicholson was born 7 April 1991, better known as Anne-Marie - British singer and songwriter, three-time world champion in karate Shotokan. The winner of the British music award "MTV Brand New 2016". For three years she was a live vocalist of the British electronic group Rudimental, after which she took up a solo career.
Video clip "FRIENDS"
We also suggest that you familiarize yourself with the fun video clip "FRIENDS", in which, in addition to Ann Marie, the "DJ without a face" Marshmello is involved. Video posted on the official channel of the last in February 2018 of the year. There is something in this abstractness. No wonder the clip since the premiere looked more than 130 million people.
Published based on http://www.intermedia.ru Photo in the top from http://genreisdead.com