A new clip of Sultan Hurricane and Murat Thagalegov released
Fans were looking forward to it. Sultan of the Hurricane и Murat Thagalegova! Today, artists with the support of the music publishing company "Zvuk-M" presented a clip for the song "Call"!
After the success of the hit "To the disco!", Listeners of 6 years have been waiting for a new duet of artists. And last month, the performers presented a joint track called "Call", written by the Sultan together with musician Ruslan Reno. The song immediately appealed to the audience, thanks to the novelty of the format, which introduced a certain variety into Tkhagalegov's repertoire, and the positive and hooligan manner characteristic of the Hurricane. Today, the artists presented a video for this song - a bright, dynamic, stylish clip filled with rich colors and, of course, romance.
Watch the video call
The video was directed by Arthur Khasanov, Petrucho studio. He told us about how he managed to organize and conduct everything in such a way as to manage in one day ...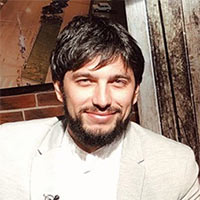 "Because of the schedule of the Sultan and Murat, we really had no more time. We all gathered in Krasnodar to do the impossible - to shoot the entire clip in a day, in a crazy rhythm! - says Arthur, - we managed to rent the airport, along with two private jets, and for 4 hours it was at our disposal. Plus, we also used electric scooters, so that the hero of the Sultan in the literal sense of the word rolled up to the heroine. Her role was played by a Russian African named Stella. It coincided very well that this time she managed to adjust her schedule for us, because she is one of the highlights that adorned this clip, in my opinion.
Considering the result of the previous duet of Sultan and Murat, as well as how all our joint projects with these artists turned out, I think that the "Call" clip will be a major success. And, since both of them are not just singers, but also my friends, I sincerely wish them this! "