Songwriter and performer, actress of the music publishing house "Zvuk-M" Tamara Garibova @tamara_garibova_official_page_ never ceases to amaze fans of his work with new ideas. She recently became a participant in the Victor Drobysh project, which helps performers navigate the world of show business, create high-quality music products and promote them. She told about the success of the singer in this project in the program "Good Morning", having visited the hosts on the TV channel "Arkhyz 24".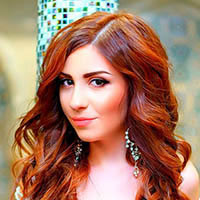 "This spring I have a song called" We Fly Into High ". I wrote the text, and the music was written by another participant in the project. She has already appeared on the radio Drobysh FM. Also within the framework of the competition for the best anthem of the project, I submitted my version and now I look forward to the results of the voting, "Tamara shares.
In addition, the artist told about her future creative plans, about what she is working on now, as well as about when and from what her artistic career began.
We suggest you right now to watch the release of the program "Good Morning" with Tamara Garibova, and also listen to her album "I Know", and remind you that all the songs of the performer are available for listening and downloading on the largest music services.
---