Today, a new song by Georgi Gaziyan has appeared on the windows of digital stores. @george_gaziyan - "Rejoice," in which he encourages listeners to notice and appreciate happy moments.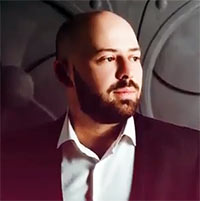 "This composition was born thanks to Arsen Kasiev, a well-known poet and composer in the music circles, the author of many Caucasian hits," says George, "having decided to record a positive, fun song that inspires people to enjoy life, I turned to him and he perfectly embodied this idea! "
The song "Rejoice" also received a visual embodiment - a video was shot in Pyatigorsk, immersing the audience in an atmosphere of summer holidays, romantic dates, incendiary dances and a party of the night city, burning with bright lights.
"On the set of this video, it was just as fun and fun for us as it sounds in the song. And this is very important - whatever you do, you should always notice the good and enjoy life, because there is enough negative in it. Therefore, it is necessary to learn how to get the most positive and fun! What I wish my listeners and viewers! ", - says George.
Listen and download the song "Rejoice", watch the video and do not forget to share with the friends a novelty!
Listen and download George Gaziyan's song "Rejoice"
Watch Georgy Gaziyan's video "Rejoice"