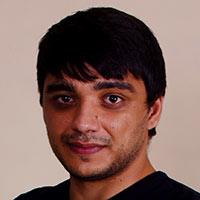 "Among the girls there are a lot of temperamental rebel women, and I tried to convey this image. I like these girls, it's always difficult to find an approach to them, but that is why they are so charming. Powdered, inflated dolls cannot attract a real man, they are candy wrappers, they are thrown away. A man is a hunter - he needs a predator.
I wrote the text for this single in two days, although I bought the music a couple of months ago. Just waiting for the right moment to work with her. Sometimes songs require patience and are written by themselves when their time comes.
In my perception, the hooligan is not a vulgar, young fool with a chewing gum in her mouth and a cigarette in her hands, but a self-sufficient, daring person who knows her own worth and will not allow her to play with herself. She has collected long hair, she is wearing a T-shirt, jeans, a cap on her head, her eyes are sly, and her smile is devilishly charming! "- comments EGO.
Where to present the picture even brighter than the author and the performer did? We invite you to listen and download the song "My hooligan" on our website.
---
We also offer fans of EGO to listen to his most popular songs according to the version of the Yandex.Music portal.