Alika Bogatyreva introduced the new song "Kel-Kel"
Believe in love and follow her! That is what the charming song sings in its new song. Alika Bogatyreva. The text to the dynamic dance track "Kel-Kel" that princes do exist, was written for the actress by a famous songwriter Arthur Kenchesha, and Alik wrote the music herself.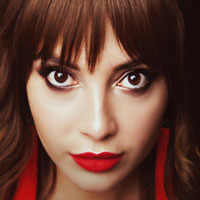 "This composition was born at work. As is known, Arthur and I are colleagues on the Arkhyz 24 TV channel. Once I called him to have dinner and shouted "Arthur, Kel!" For the whole corridor, after which our office floor spoke in Karachay language (laughs), now they call each other exactly for dinner. We laughed at this and decided that we should record such a song - "Kel". Although in the end the composition turned out to be about marriage, but not about food! "- says the singer.
Work on the track was about three months, because it was originally intended to make it in the Caucasian style, then in a chanson style, and then decided to make a modern national composition.
"It turned out to be comic, fun. Girls will understand me! We all have a lot of fans, from all sides we are advised to get married as soon as possible, and we are waiting for that one! So to those who are in this magical expectation, I dedicate this song! In general, I congratulate everyone on the upcoming New Year! I wish you, dear listeners, happiness, good health and everyone to find their soul mate and all bathe in love! "
Aliki Bogatyreva can already be listened to and downloaded on all major music services, including: iTunes, Google play, Apple music, Beeline Music, Yandex.Music, as well as in the BOOM application (for social network users Vkontakte and Odnoklassniki).
Listen and download Aliki Bogatyreva's song "Kel-Kel"