The official premiere of the song of Islam Itlyashev - "Son"
Performer of the hit "Salam alaikum to brothers" Islam Itlyashev introduced today a new track - a song called "Son", written by a famous poet and composer Aminat Napseva.
The song "Son" has a difficult story - Aminat dedicated it to one of his three sons - Muharbi, who is involved in MMA. With each victory she added to the song in verse, and now it is this single that sounds when Muharbi enters the ring.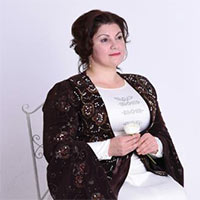 "The song was written for three years," the author says, "I, like any mother, am proud of my sons. They love to listen to this composition during the holidays, because every man hopes to recognize himself in it, and each mother desires just that for her son. It's not just praise, it's a rebuke to your child that he should never be able to not correspond to these words. "
Listen to the single "Son" performed by Islam Itlyashev right now.
Listen and download the song of Islam Itlyashev "Son"
The text of the song of Islam Itlyashev "Son"
You are my son, daredevil dashing
My steppe eagle
You fly, fly dear
Sky above the earth
Be worthy of honor, be
Friendship of the road
Do not look back son
go ahead
Be worthy of honor, be
Friendship of the road
Do not look back son
go ahead
You are a descendant of a strong people
The young son of the people, a brave man
My pride and my reward
My heart and my soul
You are my son, daredevil dashing
My steppe eagle
You fly, fly dear
Sky above the earth
Be worthy of honor, be
Friendship of the road
Do not look back son
go ahead
Be worthy of honor, be
Friendship of the road
Do not look back son
go ahead
Wisdom of the ancestors take care of life
Aksakal remember the words
May the heart always be hot
And the head will be cold
You are my son, daredevil dashing
My steppe eagle
You fly, fly dear
Sky above the earth
Be worthy of honor, be
Friendship of the road
Do not look back son
go ahead
Be worthy of honor, be
Friendship of the road
Do not look back son
go ahead
May fate give you happiness
Pleases you with good luck
And bypass the bad weather
My wings and my soul
You are my son, daredevil dashing
My steppe eagle
You fly, fly dear
Sky above the earth
Be worthy of honor, be
Friendship of the road
Do not look back son
go ahead
Be worthy of honor, be
Friendship of the road
Do not look back son
go ahead
Join Islam Itlyashev on Instagram