A song in the Balkar language was presented by Zukhra Kabardokova
The single entitled "Islamey", dedicated to the Caucasian national dance, is written in the words of Magomed Mokaev and the music of Nihat Osmanov.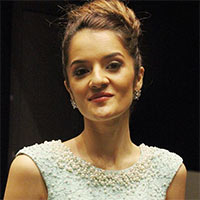 "Islamey" is a dance of different nations, "comments Zuhra," Karachais, Balkars, Chechens and, of course, Circassians dance it. " This song is a Karachay-Balkar variation of the famous "Islam", it sings about a Balkar dancing a mountain dance.
I learned this composition from my teacher Galina Malkarbievna Taukenova, she was personally familiar with the authors of the song.
My main goal when working on this project was to restore the old and forgotten cultural heritage. The dance "Islamey" stands out for me among other Caucasian dances with the special beauty of the melody, the meaning of the dance itself, and an article by a mountain guy. It tells about the culture of the Caucasus, its beauty. It attracted me.
Previously, this song was performed by a male choir, a little later it was quail by my teacher - Galina Taukenova. Now I have not heard that one of the contemporary performers was singing it, and decided to give her a new life and sound. As a student, I took the baton of this wonderful composition. "
Listen and download the song of Zuhra Kabardokova "Islamey"
Lyrics of Zuhra Kabardokova "Islam"
Zurnuklamy uchastila, oh qushlamy,
Bir kibik, kanatlaryn terk-terk sildey?
Bizge estildile kanat tauuslamy?
Ugai taulu jash tepseydi islami!
Teng kyzym kaarachi, kaarachi, kaarachi!
Taulu jash kalai tepsei islami!
Chepkeni yes akydy, Caucasian, karyarych!
Kollaryn Biyikge Kötürgendi, hey!
Tereseni zhauunmu zyngirdatada,
Ketch zholuuchu kibik, ysyk zher pour out?
Yu tower dry Buzmu Dyngyrdatada?
Ugai taulu jash tepseydi islami!
Charishmi bashlandy, not gusabad?
Andy Kimney Makhtarl "Zhigits" -day?
Tashly Zholda Emilik Atma Chabad?
Ugai taulu jash tepseydi islami!
Cranes flying through the sky or eagles?
So flapping wings equally quickly and quickly?
Do we hear the sound of wing flapping?
No, this mountain guy is dancing the Islam dance!
Chorus:
My friend look, look, look!
How a mountain guy is dancing an Islam dance!
Circassian snow-white, like the Caucasus snow!
He raises his hands high, hey!
Does it rain on the windows
Like a wanderer looking for a shelter?
Does the City Knock and Hit Roofs?
No, this mountain guy is dancing the Islam dance!
Chorus:
The competition has begun, or what kind of noise is there?
Who is now interested in glorifying the "Brave"?
Does a jogged horse ride on a rocky road?
No, this mountain guy is dancing the Islam dance!