Clip Artur Khalatova Jealous, released at the end of May, is gaining popularity
The number of views of this video on YouTube is growing and has already exceeded 1000000.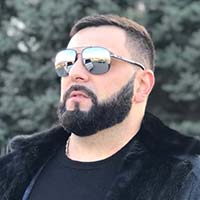 "I am happy that the song and the video for it won the audience's love. Thank you for your feedback, kind words and wishes! I will try to please you in the future, "he says.
performer to his listeners.
We remind you that single "Jealous" available on streaming sites. And if you haven't seen the clip yet, welcome to YouTube channel "Zvuk-M"!
Lyrics of Artur Khalatov's song "Jealous"
Thought for no reason
Made it up for myself
What to do with your thoughts
Don't wanna come up to me
Do not want to talk to me
To embrace
Recklessly accusing me
You blindly believe and don't trust
Well, and you are like a rose to me
Though your thorns are a threat
And you are jealous, jealous
Insanely stinging poison
Attack, excite
With a wild fierce look
You are jealous, jealous
Corny may be strange
But you are one and more to me
Don't need anyone
And no one else is needed
Certainly listened
She ruined her friends
Like blind shooting
I didn't believe my words
I did what I didn't know
Itself
But your smile is intoxicating
Erases all insults from memory
You are like a scarlet rose to me
Though your thorns are a threat
And you are jealous, jealous
Insanely stinging poison
Attack, excite
With a wild fierce look
You are jealous, jealous
Corny may be strange
But you are one and more to me
Don't need anyone
And no one else is needed