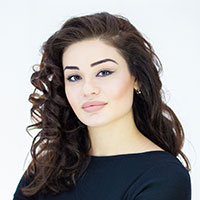 Name: Dzantiyeva Aida Taymurazovna
Date of Birth:10th of June 1988
Place of Birth: Beslan
Education: higher (MGIMO, specialty: "Management of the organization")
Musical education: Vladikavkaz School of Arts named after V.Gergiev (conductor-choral department)
Start a music career: November 2002, XNUMX
Albums and singles: "Heart flower"
Life motto: "Do good, believe in miracles and don't give up!"
A. Dzantieva: "Music for me is a favorite thing since childhood. And, of course, a balm for the soul. Life is boring without music ... "
DOWNLOAD SONGS AIDA ZANTHIEVA
Listen to the song "Guitar" | Amirina https://audio-ssl.itunes.apple.com/itunes-assets/AudioPreview112/v4/8a/50/ef/8a50ef8a-c7ef-061d-cdc4-1b27a0217e5b/mzaf_9160082162187831164.plus.aac.p.m4a Amirina Listen and download the song "Guitar" on iTunes