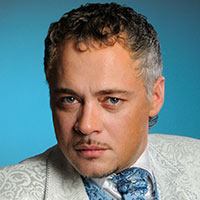 Name: Eldarov Aidamir Askarbievich
Date of Birth: January 18, 1976
Place of Birth: Maykop
Ranks: Honored Artist of the Republic of Adygea
Education: incomplete higher
Musical education: no
Start a music career: November 1996, XNUMX
Albums: "The pain subsides," "And the soul in half"
Life motto: "Everything that you accomplished will return to you!"
A. Eldarov: "Music and stage for me is God's temple!"
DOWNLOAD SONGS IDAIRAM ELDAROV
Articles about Aydamir Eldarov
Is there life without money? Aidamir Eldarov has released a stylish dance single-cabaret "Empty in the Pocket"