"Black eyes" Aidamir Mugu applauded in Yakutsk
Recently, popular Caucasian singers Aidamir Mugu and Ahra took part in the concert, which was held in Yakutsk. The audience warmly welcomed the performers of the hits "Black Eyes" and "Brown Eyes", as well as the duet song "For Her".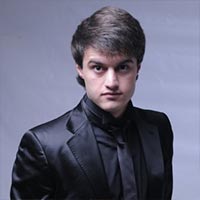 "We were warmly applauded, sang along, the concert went well," Aidamir said, "the Caucasian compositions were especially good".
The artist shared the photos of the concert and said that he and Akhra are considering the idea of ​​giving several joint performances in the Caucasus region, but for now these are only plans.
Photo gallery of Aidamir Mugu and Ahra's concert in Yakutsk
Aidamir Mugu and Ahra gave a joint performance in Yakutsk
We remind you that all the songs of the performers are available for listening and downloading on digital storefronts. And now we invite you to listen to the most popular songs by Aidamir Mugu.