Alan Muzayev introduced the song "My Beloved"
Popular love about love - a popular artist performed his new song with care and tenderness Alan Muzaev @alanmuzaev. Today, the singer introduced a track called "My Beloved." Single written Ruslana Sobieva, - Alan's beautiful musical gift to his students by March 8th.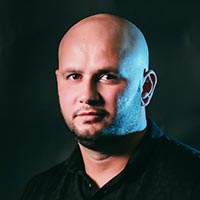 "When Ruslana showed me a demo of the song, I immediately liked it, and I decided to dedicate this song to my wife and give it for my birthday," says the artist, "but then I didn't meet the deadlines, but today I can make a surprise not only to her, but to all the fair sex.
My new composition is about love, and I want to wish my audience that this feeling accompany them everywhere. Appreciate your loved ones, respect and cherish them. Everything smoothly never happens in a relationship, but if there is love, then nothing is scary.
On the eve of International Women's Day, I wish all lovely ladies happiness, health, prosperity, and loyal, reliable men nearby! "
The singer also promised that this is not their last project with Ruslana Sobieva, and ahead of us there are many more new products. Well, today we offer to get acquainted with the single "My Beloved", which is already available for listening on digital platforms and on our website.
Listen and download Alan Muzayev's song "My Beloved"
Lyrics of Alan Muzayev's song "My Beloved"
Braiding your braid, you look at me from underneath
The most beautiful of mine, you are brown-eyed
If I offend sometimes
And I don't understand when
Forgive my love
If I offend sometimes
And I don't understand when
Forgive my love
In the midst of random phrases you hear, hear the words of love
Do not scold me, do not be angry, be weaker, be wiser - you know you can
You always think of me
I'm a forehead wrinkle
My life my love my wife
You always think of me
I'm a forehead wrinkle
My life my love my wife
I saw pain in your eyes, maybe I myself blame her
You are the best in the world, I won't even compare you with another
Sleeping nearby and still dreaming of me
I know you're afraid of losing me
For two, we have one destiny
Sleeping nearby and still dreaming of me
I know you're afraid of losing me
For two, we have one destiny
We will always wait with you for a clear sky after rain.
Touch your lips and happy again I
If I offend sometimes
And I don't understand when
Forgive my love
If I offend sometimes
And I don't understand when
Forgive my love