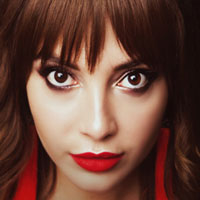 Name: Alika Bogatyreva (Bogatyreva Aishat Idrisovna)
Education: secondary vocational (CPC)
Musical education: Music School (Moscow)
Start a music career: November 2010, XNUMX
Albums and singles: "Deja vu" (album), "I want to be only with you" (single), "Overseas" (single), "Fly after me" (single), "Vezar" (EP), "My heart" (single ), "Far away" (single)
Life motto: "Everything that is not done in life is for the best!"
A. Bogatyreva: "Music for me is my breath, my life ... This is a small island where you can hide from the outside world and enjoy ..."
DOWNLOAD SONGS ALIKA BOGATYREVOY