Singer known by his pseudonym Alishka @ali_osmanovv, introduced a new version of the composition "There is a mountain in the Caucasus", well-known to the audience, naming the song "Gogia" and making copyright corrections to the text and arrangement.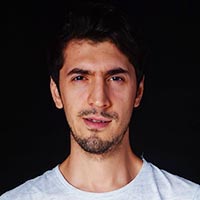 "I am sure that the listeners will like the remake, because the public does not always need serious professional projects. She also wants to hear something funny, funny, beautiful. For a smile to shine on your face, and your soul to dance! In order to make people dance, rejoice, I decided to release such a fun song. "Gogia" here sounds like an exclamation during the dance, like the usual "Ossa!", Only in the Georgian way.
By such tracks I'm going to surprise my listeners more than once. And, of course, in each of them I will bring something new. Thanks to my audience for their support, it is she who inspires me to such projects! "
Listen to the single "Gogia" on music platforms and on our website.
Lyrics of Alishka "Gogia"
There is a mountain in the Caucasus, the highest
And under it flows the river, the deepest
In the Caucasus, the most beautiful girls
In the Caucasus, boys are the happiest
Gogia Gogia Gogi Gogi Gogia
Gogia gogia genatsvale gogia
Gogia Gogia Gogi Gogi Gogia
Gogia Gogia Shantauria Gogia
You are Georgian and I am Georgian, together we are Georgian
You trade orange, I trade melons
On the table is a glass, in that glass a cockroach.
Why is there a cockroach, and he has an apartment there.
Gogia Gogia Gogi Gogi Gogia
Gogia gogia genatsvale gogia
Gogia Gogia Gogi Gogi Gogia
Gogia Gogia Shantauria Gogia
When you go to the Caucasus, the sun shines in your left eye
You return to Europe, the sun also shines in the eye
Give me a dagger, gold finca
I will go Dagestan to dance Lezginka
Gogia Gogia Gogi Gogi Gogia
Gogia gogia genatsvale gogia
Gogia Gogia Gogi Gogi Gogia
Gogia Gogia Shantauria Gogia
Gogia Gogia Gogi Gogi Gogia
Gogia gogia genatsvale gogia
Gogia Gogia Gogi Gogi Gogia
Gogia Gogia Shantauria Gogia