Fans of a popular artist Alishka accustomed to fiery Caucasian compositions and to dynamic, cheerful tracks performed by the singer. Therefore, today's novelty will be a pleasant surprise for the audience - the performer presented his first lyric single - "How are you".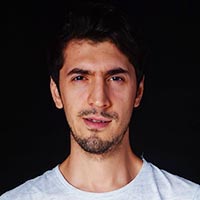 "This song was written during a pandemic, when we all sat at home and talked only with the closest people. In my case, it was my beloved girl, - says Alishka, - in the morning, afternoon in the evening, at night we talked about "how are you?", "How are you feeling?", "How are you?" And then I realized that these simple words, which everyone utters without hesitation 24 hours a day, contains much more meaning than we are used to thinking. This phrase contains our emotions and feelings, care, love and experiences.
Once on the set, I met a girl. Then we met again and again at work, and each time it sounded banal "how are you?" But one day I looked into her eyes and realized that behind these words there is already much more ... So I wrote such a song, shared my thoughts so that people would grasp the meaning, reflect and find something personal in it. "
You can already get acquainted with the new product on all digital platforms and on our website.
Well, after the single "How are you" Alishka also promises to release two more tracks:
"Now I am working on two songs: one will be a disco plan, and the other will be in English. I like to surprise my listeners, so every time I bring something new to projects. I am sure that you will like the new items very much! "
Lyrics of Alishka "How are you"
Hello! How are you
I have antibodies
To your love
Don't call me
Hello! How are you
You don't understand yet
I am your limit
I have been ill with you
You wanted to play with me
And beckoned with her body
Put on masks
This poisonous caress
In vain, then I believed you
I opened doors for you hearts
I thought you were flying like a butterfly
It turned out that the eagle flew
I almost became your prey
And cashed my account for you
You are an unexpected virus of love
I will finally move on you
But then you left, I was alone in isolation
My heart wanted to quarantine you
Hello! How are you
I have antibodies
To your love
Don't call me
Hello! How are you
You don't understand yet
I am your limit
I have been ill with you
I walk like I'm drunk
And I heal wounds
You don't understand yet
The wrong games you play
Infecting you with a deceptive look
Your life is loot and outfits
You didn't want to love anyone
Only in clubs I moved my body
Why did you come ?! I am not alone for a long time
My heart wanted to quarantine you
Hello! How are you
I have antibodies
To your love
Don't call me
Hello! How are you
You don't understand yet
I am your limit
I have been ill with you