New single from ALISHKI - "Prisoner of Paradise"
ALISHKA presented a new dance composition in the Caucasian style today @ali_osmanovv... "Prisoner of Paradise" is the author's work of the artist, which he calls the brightest in his repertoire.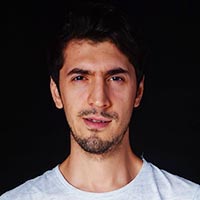 "The motive of this song was born in my head long ago: it is woven from old Georgian melodies that I have ever heard. I collected them into one, added a modern sound, trying not to lose authenticity, and turned this mix into an incendiary lezginka. Initially it was planned to name the track "Daughter of the Caucasus", but this is too literal, much more interesting "Prisoner of Paradise", where paradise is Georgia, and the captive is a girl beckoning with unearthly beauty. If you listen to the words, let the melodies penetrate your heart, you will see a romantic story of lovers played out against the backdrop of rocky mountains. In general, I release 4 songs a month, but this one seems to be the most tender and beautiful in my life! So I hope you love her too. I will wait for your feedback and comments, "says ALISHKA.
Lyrics of ALISHKI "Prisoner of Paradise"
What did the maiden do to me
Exciting heart
You intoxicated with a gentle tune
And with a kiss
You struck with a beautiful look
Wounded by you
In these eyes I gain strength
Became destiny
You struck with a beautiful look
Wounded by you
In these eyes I gain strength
Became destiny
You have become a mystery of my life
I will solve
In these arms of tender and sweet
I'm dying
The daughter of the Caucasus is so rebellious
Sing it darling
I will take you to the mountains on horseback
Prisoner of Paradise
The daughter of the Caucasus is so rebellious
Sing it darling
I will take you to the mountains on horseback
Prisoner of Paradise
You are above me like an eagle
What's wrong with me
I didn't know I could fall in love like this
This spring
You illuminate with goodness and fun
Sweet smile
I just don't know. This is salvation
Or a mistake
You illuminate with goodness and fun
Sweet smile
I just don't know. This is salvation
Or a mistake