Amina Magomedova presented a bright novelty on poems and music by Zalina Suleimanova
The song "Don't be silent" appeared on digital platforms, and a funny comic video for this composition appeared on YouTube.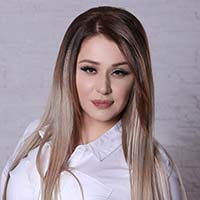 "This is a story about a girl who came from the city to her native village and met a guy there who won her heart," says the performer, "sympathy is born between young people, but he does not even dare to talk to the girl. But on the contrary, she is actively trying to attract his attention. For such behavior, unusual for a decent girl, she is constantly condemned by conservative relatives. Well, and how this story ends - you will see for yourself ... ".
The words and music for the song "Don't be silent" were written by the honored worker of culture of the Republic of Dagestan - Zalina Suleimanova.
"The main character, whose heart is conquered, sings to her lover" ... well, tell me, I ask, at least a few words! I myself will never come to you ... ", asking him to take the initiative. I immediately liked this song very much, and an idea came to my mind how to play it on video. Thanks to the director Abus Aliyev, the leading actor Elvin Atakishiev and other actors who perfectly performed their roles, the video turned out to be funny and exciting. I hope the audience will enjoy the new project. I look forward to hearing your feedback. We tried very hard! "
Lyrics of Amina Magomedova's song "Don't be silent"
You are standing next to dear
And you are silent, like a dumb
Give me at least a sign
Together we are with you or so
You are standing next to dear
And you are silent, like a dumb
Give me at least a sign
You come often in dreams
Well tell me, I ask, at least a few words
What lies ahead and about love
I myself will never come to you
Give me happiness and a star from the sky
Well tell me, I ask, at least a few words
About fate, about myself and for love
Call me yours and I will come
Give me happiness and a star from the sky
Do not be silent if in the shower
The light of love is pulling towards me
Give me at least a sign
Together we are with you or so
I ask for a hint
Follow you to the ends of the Earth
Give me at least a sign
You come often in dreams
Well tell me, I ask, at least a few words
What lies ahead and about love
I myself will never come to you
Give me happiness and a star from the sky
Well tell me, I ask, at least a few words
About fate, about myself and for love
Call me yours and I will come
Give me happiness and a star from the sky
Don't be silent, this will not work
Well, why do I need your hint
Just reach out your hand to me
If you need me so
So many days I've been waiting for you
Didn't pick a star from the sky
So that our roads converge
Smile at me when you meet me
Well tell me, I ask, at least a few words
What lies ahead and about love
I myself will never come to you
Give me happiness and a star from the sky
Well tell me, I ask, at least a few words
About fate, about myself and for love
Call me yours and I will come
Give me happiness and a star from the sky