Song Amines Magomedova "Missing You", which appeared on digital displays in the spring of this year, is steadily gaining popularity among listeners. On the YouTube channel of the Kavkaz Music label, the singer's video performance has already gained more 600 000 views.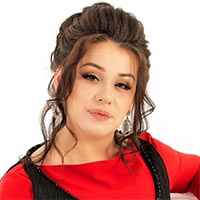 "Everyone loves songs about love," comments Amina, "I think the secret to the success of this particular composition is in words. She is about passionate love that makes the heart of a lover cry. The text itself takes for the soul and it is for them that this single is so dear to me.
I heard him when I was preparing for my solo concert and was picking up a new repertoire. Then I came across a song by Madani Ibragimov, which he performed in the 90 years. I really liked it, and I decided to re-sing it, redoing the arrangement to a more dynamic one and adding oriental notes.
I'm glad that my listeners liked the version of the track in my performance! "
You can watch Amina Magomedova's video for the song "Missing You" right now.
We also offer fans of Amina Magomedova's creativity to listen to her most popular songs according to the Yandex.Music portal.
Popular songs of Amina Magomedova