The release of a new author's song of a popular performer Amyrins @_amirina_ "The lights go out." According to the artist, she was inspired by the night views of the capital for the birth of the single: the scenes of the city that has never slept, which are so easy to observe and feel.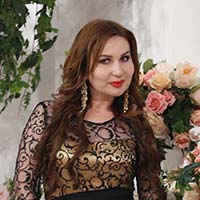 "Every evening from the window of a skyscraper, I looked at the lights of Moscow: a huge metropolis, a stream of cars, light from headlights, people hurrying somewhere ... Each of them has their own life, their own story. So this song appeared about simple but eternal relationships, "Amirina explains," I want to put a deep meaning in each of my tracks. Although this single is light and seemingly fun, it still has notes that can affect people's feelings. I want everyone listening to this song to think about something of their own, to remember their best days, as the song says.
May all our listeners never have the lights of love go out and burn with bright light! "
Listen to "Lights go out" on all digital platforms and on our website.
Listen and download Amirina's song "The Lights Go Out"
Amirina's lyrics "Lights go out"
Slowly the day went after sunset
Only with you we are not together already
Alien spring beckons with its aroma
We can't forget all that was in the shower
Lights go out in the sea of ​​love
Sinking sorrow
I'll tell you softly
Don't see off
Lights go out in the sea of ​​love
Sorry for the past
And you will leave, and you will leave
I am so sorry
Time does not heal and the night is not our friend
We are not on the same path with you
We will now be far apart
And remember our best days
Lights go out in the sea of ​​love
Sinking sorrow
I'll tell you softly
Don't see off
Lights go out in the sea of ​​love
Sorry for the past
And you will leave, and you will leave
I am so sorry
Lights go out in the sea of ​​love
Sinking sorrow
I'll tell you softly
Don't see off
Lights go out in the sea of ​​love
Sorry for the past
And you will leave, and you will leave
I am so sorry