Magamet Dzybov performed a new song by Angelica Nacheva
At the recently held solo concert Magameta Dzybova, which took place in Maykop, sounded many favorite songs of the audience, including new items. The performer specially prepared them for the new program, making a surprise to his viewers. Among the premieres - the composition "To know only ..." authorship Angelica Nacheva, from which pen came out not one hit performed by Dzybov!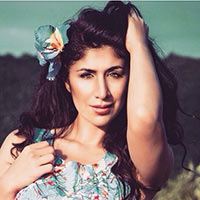 "I haven't written songs for a long time," says Angelica, "when Magamet asked me to do this, I had no idea what she would be and whether it would be at all ?! (laughs). But after some time he called me back and said that he wanted to perform it at the concert in a few days! "I know you will have time," he encouraged me then. There was critically little time, and I began to think about what kind of song he had not yet? What topics have we not yet managed to touch upon? After all, we have already dedicated songs to matters, friends, love for women and other stories. Then I realized that it would be good for him to record a song about children! And she wrote the track "If only I knew ..." At first I didn't even understand whether he liked him or not, because Magamet was generally stingy with expressing emotions (laughs). But already at the stage of the arrangement I understood - I liked it, and when I heard it at the concert, I decided - yes, I was not mistaken! "
Accustomed to listening to the songs of her colleagues behind the scenes, between performances, Angelica Nacheva first appeared among the spectators on the day of the Dzybov concert. And there, sitting in the front row, I felt some unknown feelings before that ...
"When you sit and just listen, you see all the emotions so closely, you miss it through yourself, without thinking, as before about technical, not about organizational issues, these are completely different sensations. Having heard my composition from the audience, I was touched and amazed. On the stage, Magamet directly revealed himself with this song, it was obvious that he sings and experiences her with feeling. Although, in his case, it seems to me, I always successfully "get" with the themes. Everything I wrote to him is perfect for him. Perhaps this is what happens on an intuitive level, because I know him closely as an artist, a man, my friend, an older brother. Apparently, this is the secret of the fact that everything turns out well. Indeed, in the end, I always remain pleased with the result! ".
Soon, the song "To Know Only ..." will appear on digital platforms, and then you will also be able to meet her!