Composition appeared on digital display cases Angelica Nacheva "I will be happy."
Listen and download the song "I Will Be Happy" by Angelika Nachesova
This song was written long ago, but to this day does not lose its relevance. After all, losses, blows and tests - often accompany a woman on the way to her happiness. And it depends only on her - whether to give up, or to find the strength to survive the loss, thank and begin a new happy life!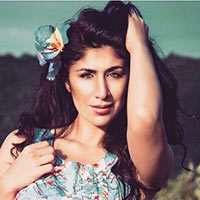 "Everything happens in life. Troubles happen in love, in work and in creativity. But in the face of any difficulties a strong female essence arises, which always finds an incentive to move on, no matter what. Nature itself fills a woman with energy, gives her strength not only to accept happiness, but also to let go of her pain. Move forward, "comments Angelica.
It is no coincidence that the composition is stylized as gypsy melodies - field, wind, barefoot dancing and soulful melodies are perfectly associated with a sense of freedom, the search for oneself and inner harmony. For a strong woman, the choice between the past and the future is obvious - she chooses to be happy in the present!
You can listen and download the song "I will be happy" on any of the music services.