Bright spring novelty from Angelica Sultanova @anzelikasultanova - the singer presented a track in oriental style - "Sing, my heart!"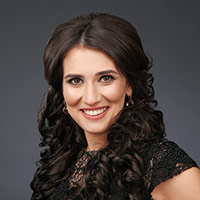 "The long-awaited premiere of my new composition has finally taken place! The work on it lasted about two years, and initially it was just a beat, - says the artist, the versions of lyrics and melodies were very diverse, but most of all I liked the version Margarita Biragova. The song turned out easy, dance, with notes of the east and my favorite melismatics. With the advent of spring, nature wakes up, and our hearts come to life and sing! Therefore, another beautiful composition about love will be released very soon.
On the day of the premiere of the track "Sing, my heart!" I want to wish all the listeners light, warmth and sincere lift! "
The new single is already available for listening on major music venues and on our website.
Listen and download the song of Angelica Sultanova "Sing, my heart!"
Lyrics of Angelica Sultanova's song "Sing, my heart!"
My way east
Where the sun rose early
Silk shawl
Under the clouds of grass
Barefoot again
We walk through the dew
Happiness is home
Where joy dwells
Sing, sing my heart
Cheer my soul
Let me warm up
Dance my love
Sing, sing my heart
Cheer my soul
Let me warm up
Dance my love
How many bright days
Set aside in the sun
Tears you don't lay
It'll be rainy
Fiery sunrise
I burn it in fire
My way to the East
I only dream about him
Sing, sing my heart
Cheer my soul
Let me warm up
Dance my love
Sing, sing my heart
Cheer my soul
Let me warm up
Dance my love
East caravan
Far to my dreams
East caravan
Far to my dreams
Sing, sing my heart
Sing, sing my heart
Sing, sing my heart
Sing, sing my heart
Sing, sing my heart
Cheer my soul
Let me warm up
Dance my love
Sing, sing my heart
Cheer my soul
Let me warm up
Dance my love
Sing, sing my heart
Cheer my soul
Let me warm up
Dance my love
Sing, sing my heart
Cheer my soul
Let me warm up
Dance my love
Sing, sing my heart
Dance my love
Sing, sing my heart
Dance my love