"My world is different" - Artem Pika presented a new composition, as well as a video for it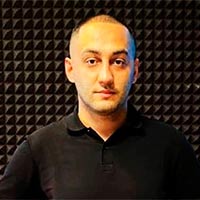 "Is a song Hasana Musaeva, to whom I am very grateful for the opportunity to perform it in my own style. It is very deep and significant for me, as the composition depicts events that closely overlap with the events in my life.
I also want to thank Ruslan Abdokov for the long, hard work and patience in working on music.
I hope my listeners will like the new song, and everyone will find in it something close and familiar, they will be able to feel it. Enjoy listening to everyone! " - says the performer.
The track "My world is different" is already available on the largest music services and on our website.
Lyrics of Artem Piki's song "My world is different"
Years between us
And big cities
I can't not love you
And you can't love
You have dawn
I already have a sunset
Just be by my side
To be able to dream
Everything will pass by itself
With melted water, the pain will go away
Only it is not given to me
To melt the ice in your heart
There is ice in the heart
Fly over the ground, next to you
Light up a star for me, next to the moon
Only with you, my world is different
Next to you and I am different
We are always with you, like fire and water
We cannot be together, but we cannot be apart
I am your hope, you are my dream
So we will walk the path of life, together to the end, to the end
Fly over the ground, next to you
Light up a star for me, next to the moon
Only with you, my world is different
Next to you and I am different