A new song by Artur Khalatov was released - "Come to the Caucasus!"
New song released by popular artist Artur Khalatova "Come to the Caucasus!" We offer to listen to the new product, recharge your batteries with positive emotions and share joy with your friends! For listening and downloading, the track is available in all major music services, including: iTunes, Google play, Apple music, Beeline Music, Yandex.Music, as well as in the BOOM application (for users of social networks Vkontakte and Odnoklassniki).
Listen and download the song of Artur Khalatov "Come to the Caucasus!"
Incendiary dance composition in Caucasian style - a new joint project of the artist with the author Margarita Biragova. This time they conceived a track about the highlanders' hospitality. The beauty of nature, the clean mountain air, the diversity of national cuisine, cheerful music and dancing - this is what attracts people to this wonderful land. Themselves, the mountaineers, famous for their hospitality, with joy and an open soul, meet their guests!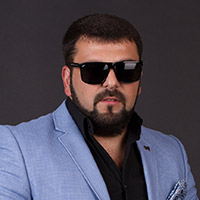 "I love my Motherland, as well as each of those who were lucky enough to be born in the Caucasus! There are always many friends in my house, my doors are open for them at any time! After all, communication with loved ones makes us happier, and when a person is happy, his soul sings. My, for example, performs a new track, inviting everyone to visit! ", Says Arthur.