Artur Khalatov's patriotic composition "For Russia!"
Video about the heroic army of Russia to a new song Artur Khalatova "For Russia!" came out today YouTube channel of the music publishing house "Zvuk-M". Words and music for the composition were written by Artur Besaev.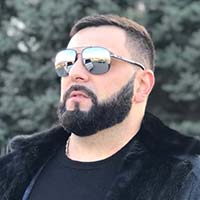 "Russia has always won any war if this war became popular. And I believe that every person should contribute to our common victory. Artists form the consciousness of people with their works, they bear personal responsibility for this. This is not the time to remain silent and sing only about love and beautiful eyes, not now is the time.
We certainly want world peace. And so my song "For Russia!" - for reasonable and patriotic listeners, that is - for the vast majority of the inhabitants of our country. I consider myself an absolute patriot of Russia. Russia was, Russia is, Russia will always be! A low bow to the heroes, the glory of Great Russia!
Lyrics of Artur Khalatov's song "For Russia!"
It's raining again but it's from the ashes
Again the sounds of shelling
Every day you're under the gun
Nerves like a rope
There shoulder to shoulder courage
Everything is under the same flag
For the fate of their homeland
Stand until the end
For Russia and freedom
For the Fatherland
Defending honor and will
Under the banner of goodness
For the victory of the tricolor
We are united in this Power
Glory to every hero
Hail you my Russia
Thunder again but from the projectile
The boys are back in action
Under the motto brother for brother
Leaving into the sunset
God is with us, which means the truth
Not afraid of hail
For your native country
And for the pain of loss