The singer presented a track dedicated to the native land
Arthur Khalatov @artur_halatov presented a new composition - "Ossetia", dedicated to the beauty, sights and spirit of his native region.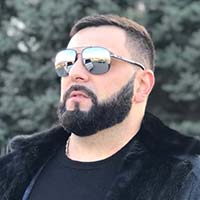 "This is an incendiary track filled with warm feelings for the Motherland, pride in her and admiration. Arthur Kencheshaev brilliantly conveyed my thoughts in relation to my beloved Republic, and Arthur Besaev picked up music that perfectly conveys energy, the "heartbeat" of this region.
I would like to wish North Ossetia-Alania and the entire Caucasus longevity and prosperity! Health and peace to our peoples! I hope the listeners will like the new track, "says the artist.
The single "Ossetia" is already available on the largest digital platforms and on our website.
Lyrics of Arthur Khalatov's song "Ossetia"
Diamond sparkling among the mountains
You conquer with honor for a long time
Rise above the world with beauty
Ossetia dear, we are with you
Freedom is your most important command
Like an ancient sled, Vladikavkaz stands
The hearth of your soul will warm us
What lights up Uastirdzhi
You conquered years and centuries
Courage and hope bastion
I will name my star Ossetia
I love you, dear Iriston
Your soul is boundless
The magical world and the most wonderful dream
I will call my fate "Alania"
I love you, dear Iriston
A harsh row of ancient fortresses
Keepers of your story
Native flag will rise for us
And the mountains will announce the Caucasian leopard
You open the door for guests
Wonderful land, beautiful Tsei
Rivers and winds are humming here
Poetry Khetagurova Costa
You conquered years and centuries
Courage and hope bastion
I will name my star Ossetia
I love you, dear Iriston
Your soul is boundless
The magical world and the most wonderful dream
I will call my fate "Alania"
I love you, dear Iriston
You conquered years and centuries
Courage and hope bastion
I will name my star Ossetia
I love you, dear Iriston
Your soul is boundless
The magical world and the most wonderful dream
I will call my fate "Alania"
I love you, dear Iriston
I love you, dear Iriston