"The brown-eyed brunette, then the quiet one, then the coquette ..." - as described in his new song Aslan Kyatov @ aslan.kyatov attractive girl playing with hearts. Her image was born in the head of the author Fatima Kambiyeva, and Aslan, having familiarized himself with the text, immediately decided that such a composition would be a wonderful decoration of his repertoire, and he himself wrote music to it.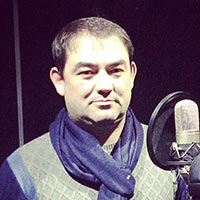 "How often men fall in love with their eyes!" And how painful it is sometimes to realize that an unstable nature hides behind them. Such stories happen all the time. I am sure that many of my listeners were once led to the "beautiful eyes", and then burned. This song is about them. But only the best needs to be left in memory, so that later, without regret, recall the days and emotions experienced. And this is best done to music - to my new track! " - says the performer.
You can listen and download the song "Brown-eyed" on our website, as well as on any of the digital music venues.
Listen and download the song "Brown-eyed" by Aslan Kyatov