Name: David Divad
Date of Birth: 9th of November 1968.
Place of Birth: Milan (Italy)
Kind of activity: Poet, composer.
Endurance: Since 1980.
Genres: Estrada, folklore, soul, rock, east, Caucasus, chanson.
Collaborations with: Nani Bregvadze, Robertino Loretti, Zara, and others.
Most famous songs: "My beloved" (Timur Temirov), "Father's gray hair" (Rinat Karimov), "Your eyes" (Nani Bregvadze), "Angel" (Zara), "Father" (Elbika Dzhamaldinova), "River of Fate", "Rus high "and others.
Inspired by: Peace and quiet.
The secret of success: Honesty and hard work.
LISTEN TO THE AUTHOR DAVID DIVAD's TRACKS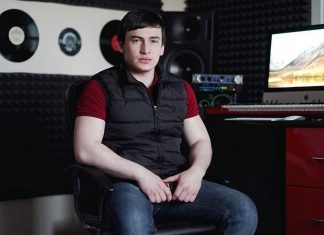 This year the renowned arranger Ruslan Abdokov celebrates the XNUMXth anniversary of the opening of his own recording studio - "RR Project Studio". Recording studio "RR Project Studio" Mixing, mastering, production ...