A novelty from Azamat Pheshkhov appeared on digital showcases - the single "Hooligan" was released!
The live premiere of this song took place at a concert in Vladikavkaz, where last month Azamat Pheskhov @azamat_pkheshkhov performed it for the first time.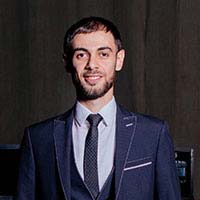 "The audience greeted this composition very warmly! She received many positive reviews, and then caused a lot of questions about where you can listen to it. And here I am glad to announce that from today the single is available on digital music venues!
I want to say thank you to Aslan Abdokov, who helped me in writing the words, and also thank my listeners for their support and love for my work. It always inspires! "
Lyrics of Azamat Pheshkhov's song "Hooligan"
Has bewitched my life
I can't sleep at night
Your smile and posture
Drove me crazy
Hooligan
I don't know what happened
And I noticed it more than once
Day after day sometimes I dream
Drown in the sea of ​​your eyes
The soul sings free
And the heart beats at the same hour
Sometimes he cries and laughs
As if this world is for us
Has bewitched my life
I can't sleep at night
Your smile and posture
Drove me crazy
Hooligan
You will smile, the mountains will tremble
Earthquake, fire
And the curls are like waves in the sea
I will be enchanted
The soul sings free
And the heart beats at the same hour
Sometimes he cries and laughs
As if this world is for us
Has bewitched my life
I can't sleep at night
Your smile and posture
Drove me crazy
Hooligan
Has bewitched my life
I can't sleep at night
Your smile and posture
Drove me crazy
Hooligan
Has bewitched my life
I can't sleep at night
Your smile and posture
Drove me crazy
Hooligan