Baarni presented another novelty - the track "I Love" and a video for it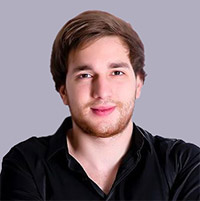 "The author of this lyrical composition is Marek Ayvazyan, - says Barni @baarni, - he created a romantic story, the main character of which suffers from his love, but cannot forget it. I tried to convey these emotions, and the result was a beautiful, life song that will undoubtedly touch the hearts of listeners, and many, I think, even recognize themselves in it. "
Well, what can make a new piece of music brighter than a captivating video clip? His Baarni, together with director Nuradin Satyrov and model Zalina Peliyeva, was filmed in Vladikavkaz.
"Very beautiful places were specially chosen to show the history of the main characters against the backdrop of the beauties of the Caucasus. As a result, it turned out harmoniously and picturesquely.
Zalina and I tried to play out the storyline of the heroes who are not destined to be together. But a little intrigue awaits our viewers at the end of the video ... Write to me later on how you understood the ending. Enjoy your viewing and thank you for being with us! " - says the artist.
We were friends with you since childhood
And as children we played in love
But, then we did not suspect
What awaits us with you ahead
Every year love flared up
But, you never confessed to me
That you gave your heart to another
And when I found out, I said - go away
I love, my soul suffers
Only because of you
And you live and you don't know, you don't know, you don't know
I wait, but the years do not help, only because of you
And you live and do not know
And now I'm not jealous of you
But I love you, such a fool
But you are no longer dear anymore
Not my friend and not my wife
You have your own life, you will have children
May everyone be happier in the world
And I wish you happiness too
Well, I'll live without you
I love, my soul suffers
Only because of you
And you live and you don't know, you don't know, you don't know
I wait, but the years do not help, only because of you
And you live and do not know
I love, my soul suffers
Only because of you
And you live and you don't know, you don't know, you don't know
I wait, but the years do not help, only because of you
And you live and you don't know, you don't know, you don't know