New on digital platforms
Artist presented another author's track.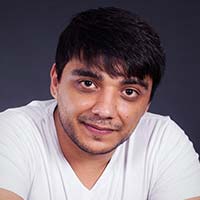 "I hope my good mood will be passed on to my listeners. There are many serious tracks ahead, but for now I am giving you such a non-burdening, positive song, "says the performer.
You can already get acquainted with the single on the website and streaming sites.
My girl sleep
Quiet, quiet, bayu, bayu
And you will have dreams
While I hug tight
Bayu, Bayu-bye
The night has come, and everything is early for her
Bayu, Bayu-bye
Disobedient and stubborn
Bayu-bye, lala, byu-bye
She beckons me with her eyes
Bayu-bye, lala, byu-bye
And I, and I will be there
Bayu-bye go to sleep
Girl, girl pie
Tomorrow again we are again
Let's light it up together
There is vanity here and there
I'll start you fly
Until the morning I
I will be near, I will be near
Sees outside the window
The night did not come to her sleep
House is around again
And again around the head
The girl does not sleep
And does not let herself fall asleep
Ripped off the chain
I'm like a wolf, she is the moon
Here she is, here she is
My lady, here she is
Here she is, here she is
I trudge along it
My card is bit by it
I will dry out from her sight
So sweet, so sweet
I'm bitter as tequila
I breathe in the scent
And I'm drowning like in the ocean
The mind leaves the chat
I follow her, goodbye earthlings
She is my half
Only I have access
Covers like an avalanche
And she's my air now
Subscriber unavailable
Don't call her busy
With an angel I'm tete a tete
And in paradise, the earth does not soar
Bayu, Bayu-bye
The night has come, and everything is early for her
Bayu, Bayu-bye
Disobedient and stubborn
Bayu-bye, lala, byu-bye
She beckons me with her eyes
Bayu-bye, lala, byu-bye
And I, and I will be there
Here she is, here she is
My lady, here she is
Here she is, here she is
I trudge along it