New author's composition presented by Aris
"Tramp-kid", according to the artist, is an image inspired by memories of his youth.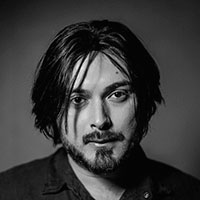 "I played a melody on the guitar, words began to appear in my head, and as a result, a song was born, saturated with the atmosphere of cheerful courtyard gatherings, noisy companies and traditional songs with a guitar.
Since I work in different musical styles, I wanted to try something new. If this project comes to the public, I will definitely shoot a video for it in the future, "says the performer.
You can already listen to the new single by Aris on the largest music services and on our website.
The performer also shared that he has big creative plans for the coming year:
"I want to release a lot of new songs. But, although I prepare diverse music, all of it will correspond to my main style. I hope that next year it will be easier for all of us to live and work.
In the meantime, I want to congratulate my listeners on the coming New Year and wish them joy, health and, most importantly, love, because if there is, then there will be warmth in your life, kindness and purity, and purity is the guarantee of happiness. "
Lyrics of Aris's song "Tramp-kid"
Yes, I'm a tramp kid
I loved you with all my heart
With a sad chord finale
I finished my glass
Don't look for me in it
I'm not in it
Destiny gave us
Farewell ticket
Yes, I'm a tramp kid
I loved you with all my heart
With a sad chord finale
I finished my glass
Yes, I'm a tramp kid
I loved you with all my heart
With a sad chord finale
I finished my glass
You hate me
For not being yours
You chose, not me
Pocket gold
Yes, I'm a tramp kid
I loved you with all my heart
With a sad chord finale
I finished my glass
Yes, I'm a tramp kid
I loved you with all my heart
With a sad chord finale
I finished my glass
Yes, I'm a tramp kid
I loved you with all my heart
With a sad chord finale
I finished my glass
With a sad chord finale
I finished my glass